It is with pleasure that the particular demands expressed by my clients enables me to find the inspiration to help them create their own universe.
You desire to construct, renovate or change a space?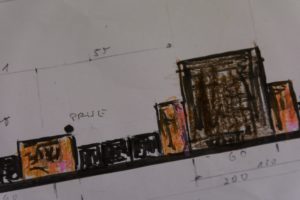 From the largest aspect of the project to the handmade details, I am here to help you.
Advice on decoration
Bring to fruition your project adapted to your budget
Project management
You are very welcome to visit and explore my world to inspire you in the realisation of you own project.
Or as a passionate traveller, flexible and mobile I am with you, happy to travel to meet you.
TESTIMONY
Kristiane travels wherever you need her
"To create my splashback, we have worked at a distance with multiple exchanges of plans, photos and samples. Finally she visited me in Brittany to realise the installation.
The personal touch in stoneware and porcelain
A selection of recent commissioned work
Water proof and frost resistant
my INSPIRATION and EVOLUTION

In 1995 I started to create my universe when I bought a farm in France
I integrated new materials and innovated building techniques to modernise an old stone barn,
whilst retaining its traditional character.
Spaces where I created my home, my workshop, my showroom that reflected my personality,
inspired by the natural materials, the light and the colours of my surroundings.
This experience helped me evolve from the creation of objects to a global transformation of space,
marrying diverse materials and creating a new composition.
A passion was born: to accompany people to realise their vision in their spaces.